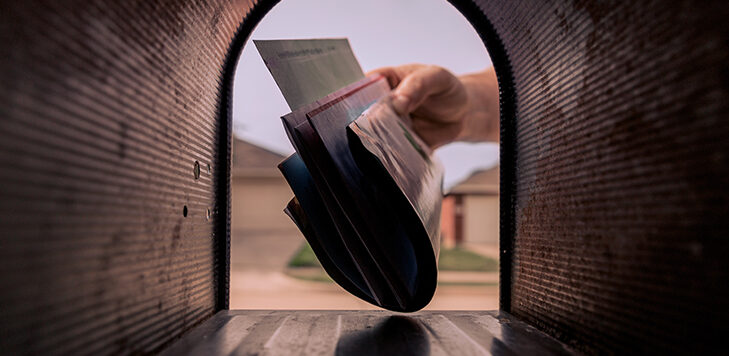 10 Nov

Printing – Tricks of the Trade
All you need to know about printing: paper choices, digital v offset printing, and paper folds.
It's hard to think about printing after all the effort of getting your material written, graphic designed and approved.
But understanding the fundamentals of printing (and paper) will help you get your material out on time, at the right quality and on budget.  
How to choose the right paper 
When asking for a print quote, it helps to know what kind of paper you should use. 
If your organisation has a style guide, it might have instructions for paper choices. If not, here's some things to help you decide what kind of paper is right for your job.  
Paper thickness and weight 
Broadly speaking there are three types of paper stock you can use: lighter, heavier, and thick card stock. Each is suited for different kinds of jobs. 
Lighter paper stock is best for smaller, very localised distributions such as works notifications. 90gsm white bond is the standard go-to here (similar to the stuff in your office printer).
Heavier paper is good for materials like newsletters and brochures. NSW Government agencies commonly use 115 GSM Monza Satin, 110 GSM revive Laser, 130 GSM Silk Art. 
Thick card stock is good for materials like postcards. DL and A6 are the most popular card sizes as they fit neatly in a letterbox (check out folds and layouts below). A5 doesn't fit comfortably in many older letterboxes and may get crumpled.
Heavier weight stock is usually better for cards (250 gsm and 350 gsm). You can also choose matt and gloss finishes. Matte tends to look more recyclable and environmentally sensitive.
Paper choice is important to your brand
It may seem trivial, but your paper stock choices are an important part of your organisation's identity and brand. Remember that many people will only know about you, your project or product through these printed materials.  So by consistently choosing a specific type of paper for a specific type of job, you'll be strengthening your organisation's identity. 
You don't need a style guide to establish a consistent approach to your printing. Just make some sensible rules and stick to them. 
Also by regularly using a certain type of paper, your printer is more likely to keep it in stock. This can mean shorter leads times because they don't need to order the paper.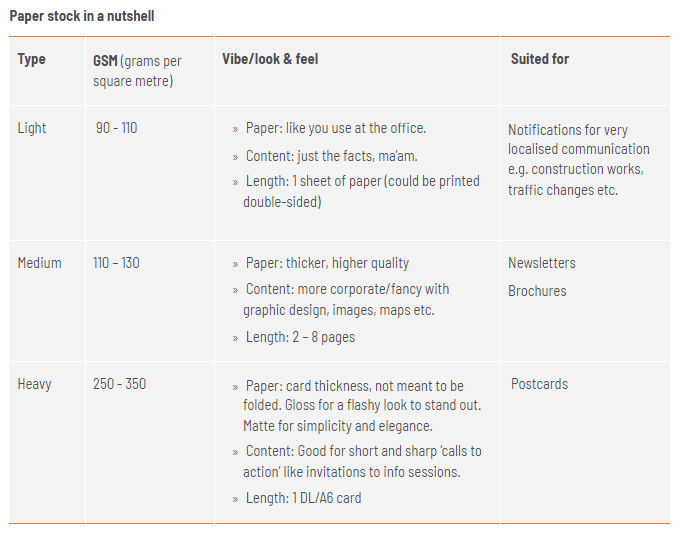 Digital vs Offset Printing
Your choice for digital or offset printing ultimately comes down to size of the print run and length of your material. But your choice can also have a big impact lead times and cost. 
Offset printing 
Best for …
Bigger print runs and longer documents.
How it works 
Traditional offset printing is produced on a printing press using printing plates and wet ink.
Quality
Produces the highest quality available on the widest variety of stocks. Also offers the highest degree of control over colour.
Turnaround times
Because of the set-up and drying times, offset printing takes a little longer to produce than digital.  Larger documents take longer to print and fold. Generally allow 2-3 days for offset print…
Cost considerations
The most economical choice when producing large numbers of prints of a few originals (i.e. over 3000 copies).
What else?
A few other things to keep in mind:
Offset print files need bleed and trim lines 

Some stock sizes don't fit into letterboxes well

High resolution images are best….
Digital Printing 
Best for …
Smaller print runs and shorter documents.
How it works 
Like your office printer, but only bigger for commercial purposes. Uses toner and prints directly onto the paper size of choice (e.g. A4, A3 etc.)
Quality
Good quality (but lower quality than offset printing can offer).
Turnaround times
Faster than offset printing because there's less set-up involved and no drying times. Generally same day of 24 hours depending on the size of print run.
Cost considerations
Cheaper for smaller print runs as there's less set-up costs required. But comparatively more expensive than offset for print runs over 3000.
What else?
May not print larger documents such as 6 or 8 pages.
Got any print questions or need a quote? Drop us a line!